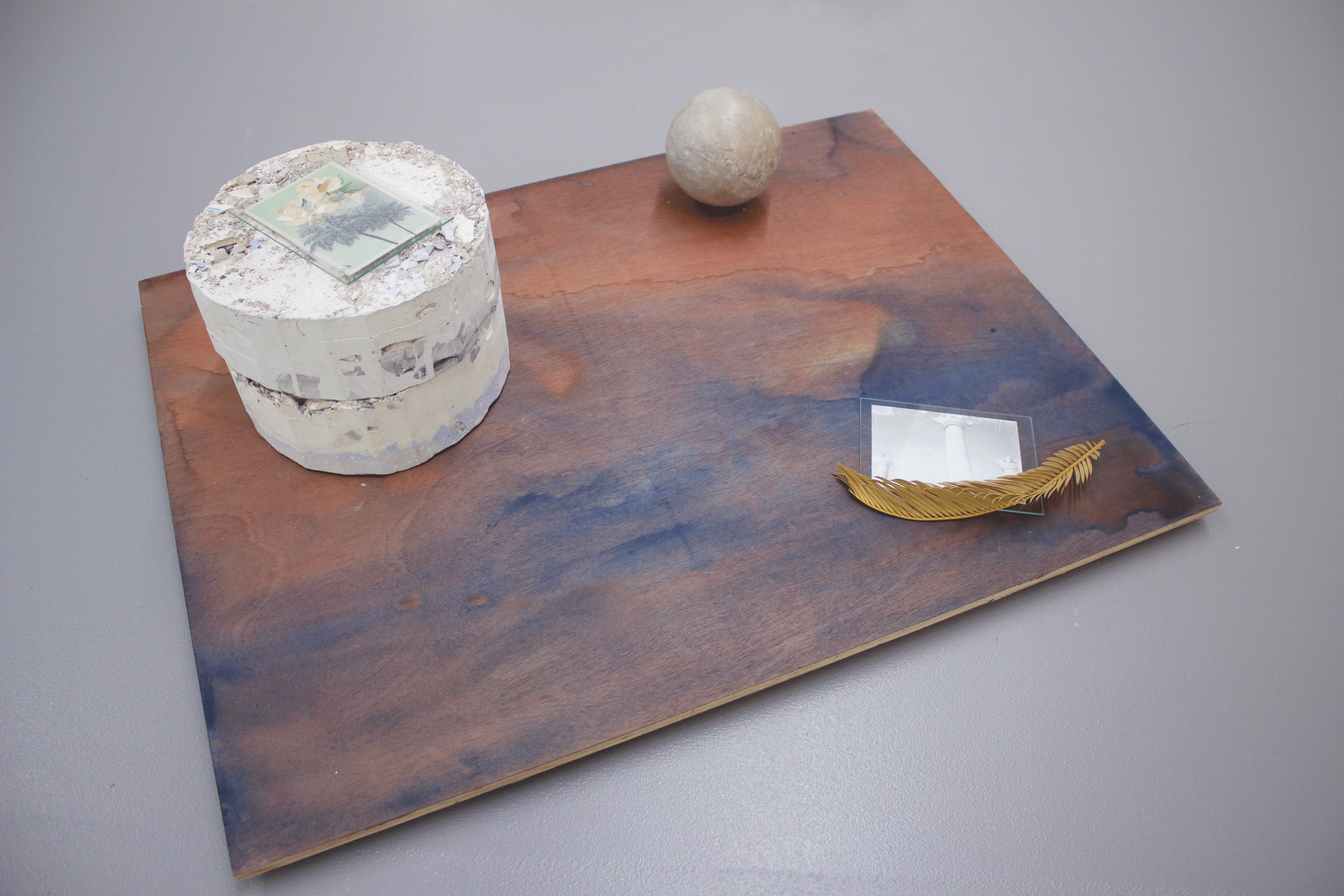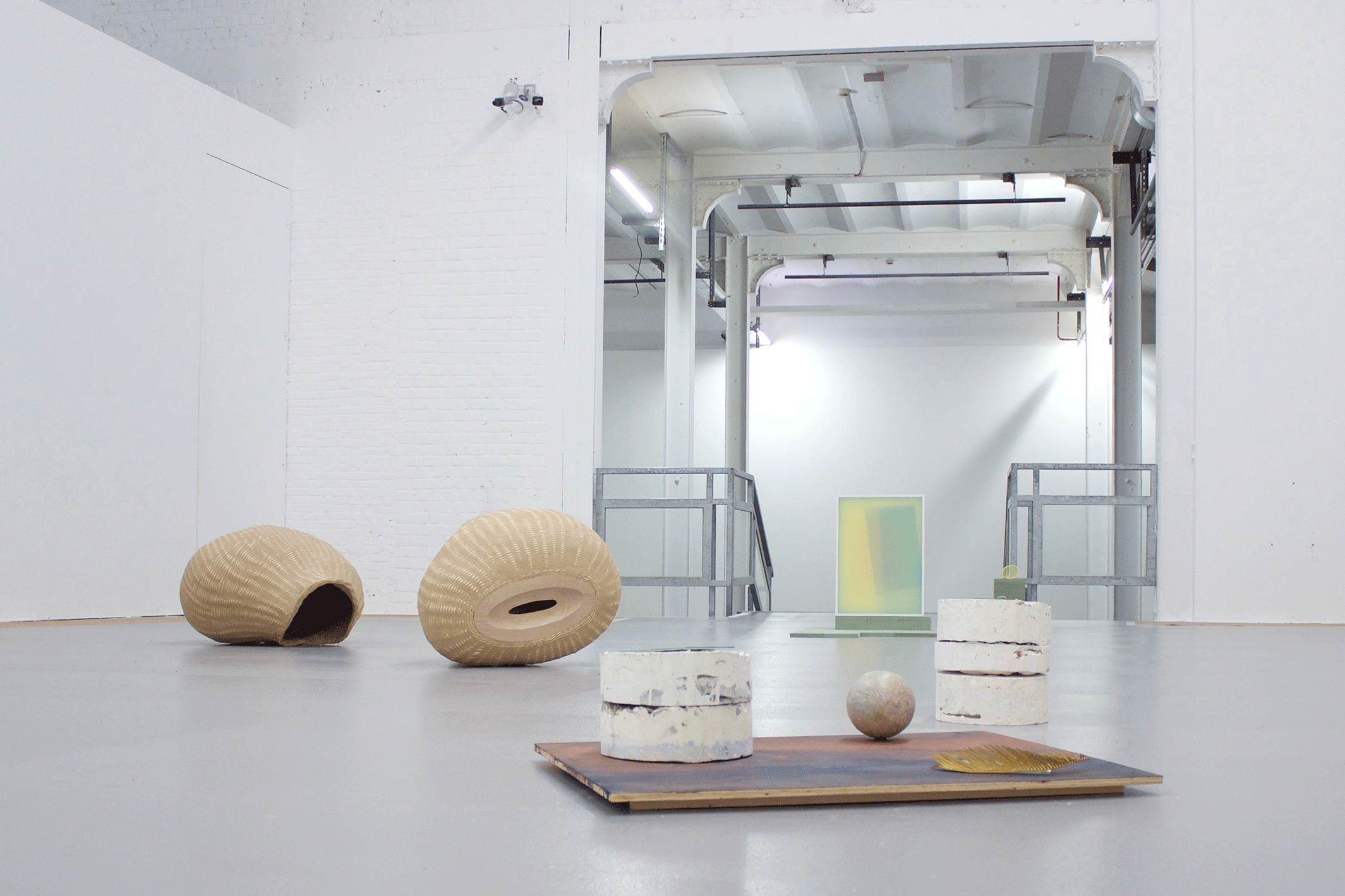 {...} et l'on a pris pour la réalité ce qui est une peinture*
Installation(s) in-situ, dimensions variables, plâtre, ciment, peinture sur bois, photographies argentiques sous verre et objets
In-situ installation(s), variable dimensions, plaster, cement, paint on wood, silver photographs under glass and objects
*Boccace, Le Décaméron
À géométrie ternaire

La Cenatrale, Bruxelles, 2019

Stéphanie Jacques
Camille Truyffaut
Marine Penhouet
Commissariat Lucie Pinier
Marine Penhouet lie la photographie, le volume, le dessin et la peinture. Peu importe l'outil ou le support, le point de convergence est le collage. Elle glane des objets au gré de ses déplacements : la sphère, la pyramide, le palmier, l'élément végétal ou architectural. Cette collection constitue un corpus précis de signes-objets dans lequel elle puise pour composer ses peintures tridimensionnelles. Elle superpose, scotche, efface et recouvre. La notion de palimpseste est ancrée. L'artiste cultive une affinité avec la peinture narrative, comme
l'Annonciation de Giotto.
La technique du collage lui permet d'affirmer une succession de plans dans une même image, à travers l'objet, le texte et le fond peint. Les peintures dans l'atelier sont en perpétuelle évolution jusqu'au moment de l'exposition. L'installation pour l'exposition éphémère
À géométrie ternaire
, est une composition d'éléments en travail. Pour cet "étant donné", la peinture sur bois devient socle et les colonnes-socles présentent une nouvelle collection de rebuts de matières compactés issus de l'atelier.

Lucie Pinier, curatrice indépendante


Marine Penhouet links photography, volume, drawing and painting. No matter the tool or the support the point of convergence is the collage. She gleans objects as she travels: the sphere, the pyramid, the palmtree, vegetals or architectural elements. Her collect constitutes a precise corpus of signs-objects in which she draws to compose her three-dimensional paintings. She layers, scotches, erases and covers. The notion of palimpsest is anchored. The artist cultivates an affinity with narrative painting, like Giotto's Annunciation. The technique of the collage allows her to affirm a succession of plans in the same image, through the object the text and the painted background. The paintings in the studio are in perpetual evolution until the moment of the exhibition. The installation for the ephemeral exhibition À géométrie ternaire, is a composition of workingprogress elements. For this "étant donné", the painting on wood becomes a pedestal and the column-socles present a new collection of a of compacted material scraps from the studio.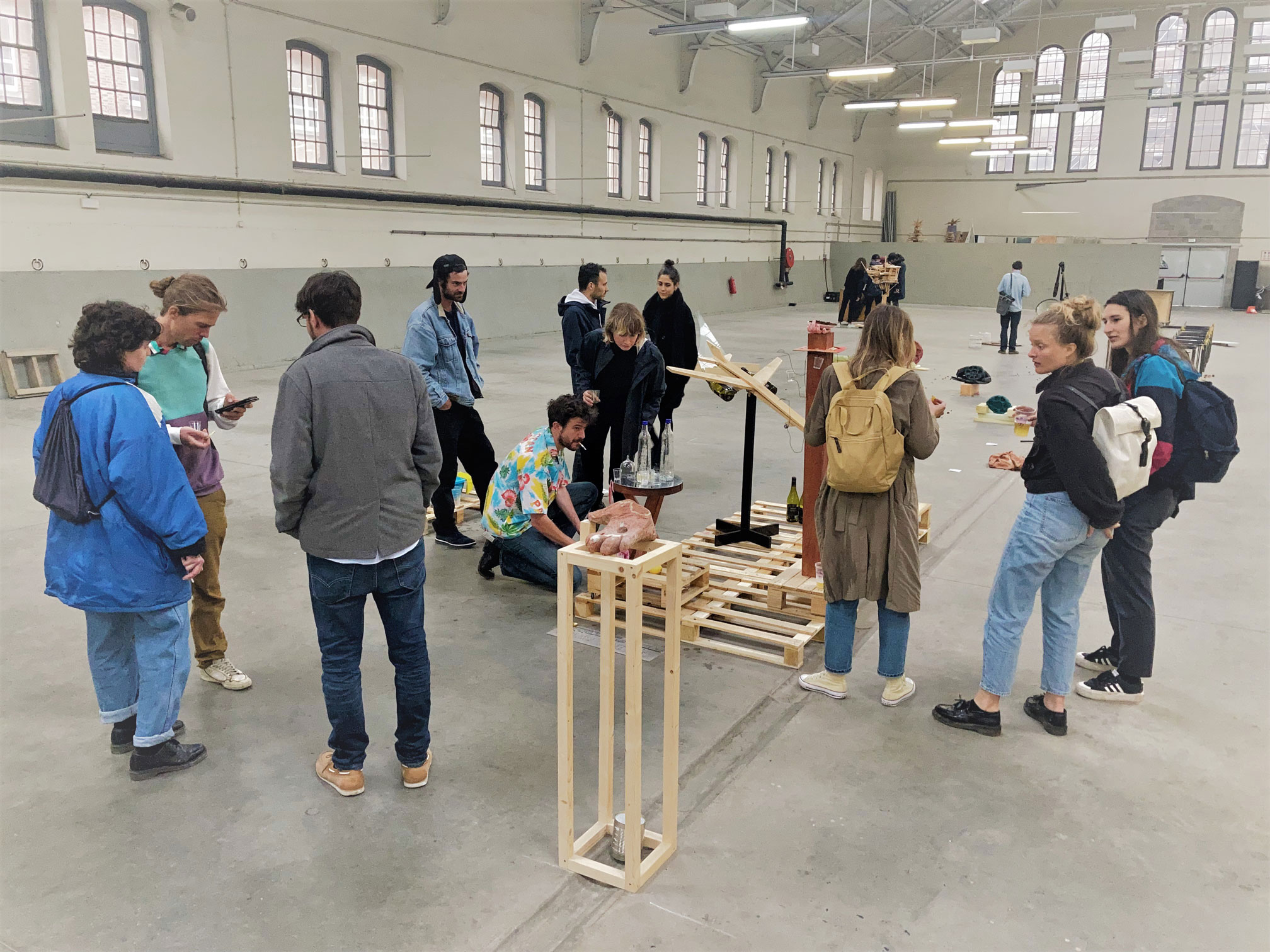 Spare us the gutter

SeeU, Bruxelles, 2021

Andrea Camps
Rosanne Claes
Aaron Daem
Tom Hallet
Mathieu Hendrickx
Bart Lescrève
Claudio Panto
MarinePenhouët
Juan Pablo Plazas
Xander Stragier
Merzedes Sturm-Lie
Zinaïda Tchelidze
Sara Vandael

Commissariat Tom Viaene